Over the past few years there have been frequent predictions of a new "dash for gas" in Europe, with many in the industry believing that gas is the natural solution to the challenges posed by the desire to decarbonise the electricity sector while maintaining security of supply. Gas demand however continues to fall and far from a gas renaissance, the past few years have seen almost no new gas generation being built and even efficient modern plants being mothballed due to poor economics.
Demand
Forecasts for European gas demand have consistently proved to be too optimistic, as illustrated clearly in this analysis by E3G. These charts are particularly interesting: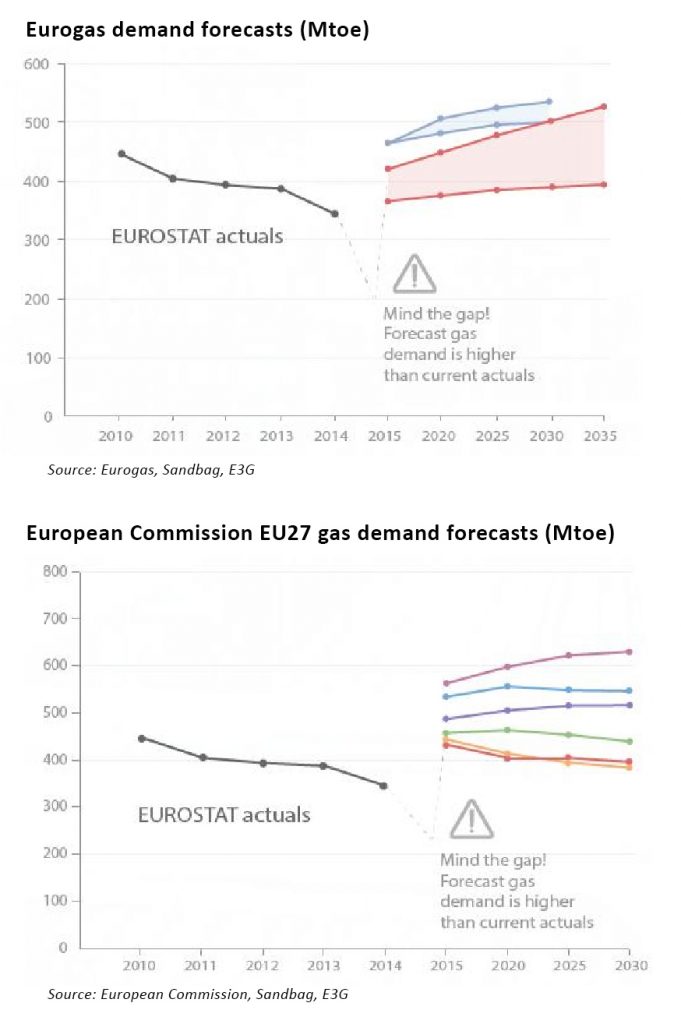 A quick internet search reveals a wide range of expectations – forecasts for European gas demand in 2020 range from 445 Bcm (IEA, OECD ex-Turkey), to 522 Bcm (Timera Energy, IEA countries), to 564 Bcm (The Oxford Institute for Energy Studies, 35 European countries including Turkey).
This compares with the most recent consumption data from Eurogas of 426 Bcm in 2015 for the EU-28 (2015 data are not yet available on Eurostat's website to allow a full comparison with the forecasts on a like-for-like basis). This represents an increase of 4%, and is the first year-on-year increase in 4 years, however, weather was a major factor with 2015 having temperatures closer to average after a very mild 2014.
Please follow and like my blog: